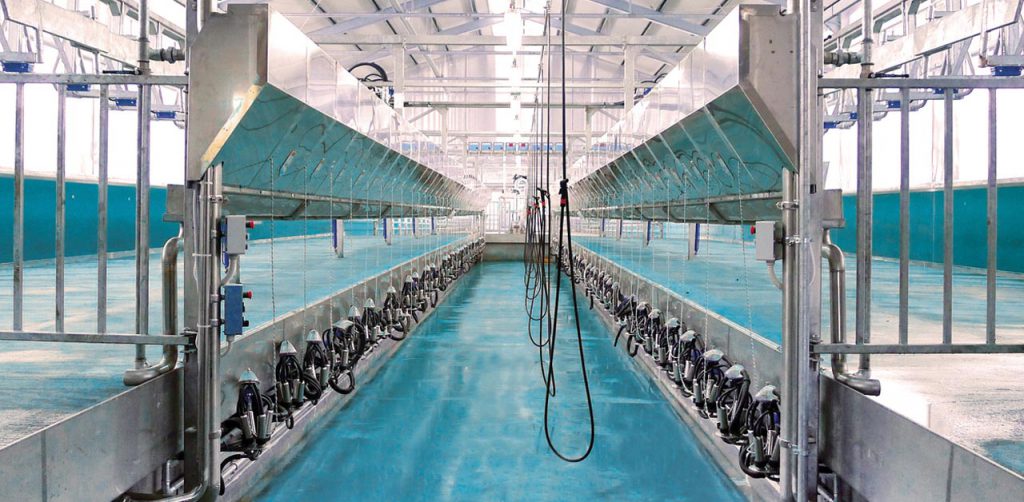 PARALLEL MILKING PARLOUR
Rear milking parlour, ideal for livestocks of big dimensions. Animals are disposed side by side at 90° in comparison to the milk hole outline and separated by appropriate gates installed on the breast rail.
Our milking parlour, available in galvanized or stainless steel versions, is characterized by the use of squared section tubular granting robustness and solidity to the installation. The rapid exit lifts vertically through oleo dynamic cylinders and it is studied for assuring the best animal positioning and the best work quality for milking machines. It can in fact move back all the animals in one line with a simple button pressing. At the exit time of the animals, the frontal and the gates lift, leaving the animals completely free to go out.
The upper cabinet in stainless steel is made to house the meters keyboards. The faces splash guard, made in stainless steel, covers the all length of the milking parlour and is completed by the presence of a duct for manure removal with an upper grid.
In our milking parlour we faced also the delicate problem concerning the positioning of the cluster in installations with rear milking. With the rope and pulley system we can sustain the weight of the long milk tube and also the pulsation tube, without binding them at the pit edge. The operator will set the length of the rope according to the udder shape ensuring an excellent balance of the cluster in order to avoid the overmilking of the anterior quarter (udder quarter)
Several optional and automations are available for our parallel milking parlour to allow you to realize the one best suited to satisfy your requirements. You can contact our technical/commercial service to evaluate together your custom-made project.
Technical Characteristics

 

Squared section tubulars
Stall interaxe 73 cm
Rapid-exit with hydraulic lifting system
Available both in-line milking parlour and two-sides
In galvanized iron or stainless steel
Available with traditional washing system (bowl) or forced washing system
Available with Backflush (washing clusters after each unload of animals milked)
Available with milk separation (dedicated milk pipeline)
Available with electronics milk meters and computerized management system
Available with tunnel for the housing of components (recommended for big milking parlour)